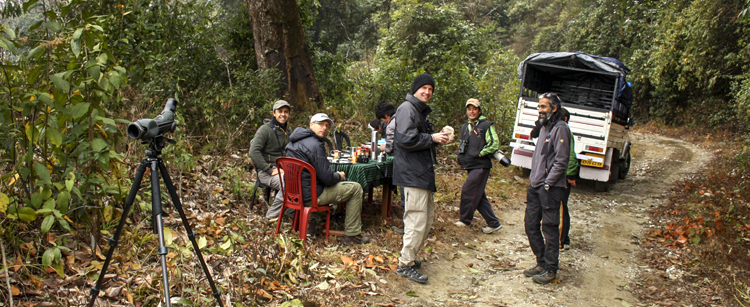 Testimonials
- Karlheinz Grass, Germany
Our trip in December/January 2014/15 to Arunachal Pradesh and Kaziranga NP (Assam) was fantastic. Although sometimes very cold during the nights in the higher mountain-areas we felt very good! Days where sunny and we could make many sightings of beautiful birds and lots of other animals (including one Tiger at Kaziranga). The organisation of Gaurav Kataria was perfect. We always get any informations we needed, the recommended Tour-Plan was excellent and every Email was responded immediately!
Our Tour-Guide - Lobsang Tsering was very friendly and very competent. He has a good knowledge of the birds - especially the voices. And very special knowledge about the really difficult warblers!! So we got nearly every bird we wished to see! Only some birds, difficult to see in wintertime we didn´t get.
Also we had a very good driver!
We started at Guwahati and then went to Nameri Eco Camp. The next destination was Lama Camp and Bomphu Camp (Eaglenest). What a fantastic area! It´s a fortune, that´s no mory military is there and nature can develop. And it´s a fantastic place to visit!! Then we went to Dirang. From there we visited Shangti Valley and Sela Pass before we went to Mandala. There we stayed for 3 nights!
- Chetna Sharma, India
Gaurav.Its because of you I went to Eaglenest and your team took good care of us.Keep the good work going.Hope to make another trip soon.
- Gururaj Moorching
I will remember the moment and the emotions I went through Gaurav till my last breath.... Most cherished... Wearing and birding through Phoebe Snetsinger's field glasses.... I can never thank you enough for creating the magic moment....:):):):)
- Rahul Sharma & Khushboo Sharma
Well appreciation should be done immediately after result , but i believe you are never too late for appreciating good things first Gaurav Kataria - thanks for the excellent hospitality , services more than expected , NE was totally new still your Team at camps done an excellent job there was a quotation at eaglenest " cricket lover ney sachin ko kheltey nai dekha to ky dekha , bird lover ney eaglenest nai dekha to ky dekh " I add one more point on this " eaglenest Gaurav k sath nai dekha to ky dekha for birders a cup of tea and few breads in remote places is like more than sufficient - but 6 course meals at remote place is awesome. Your Team lead by lopsang was more than enough capable and good.
Well a picture speaks a thousand words , so folks wait sometime for that too.