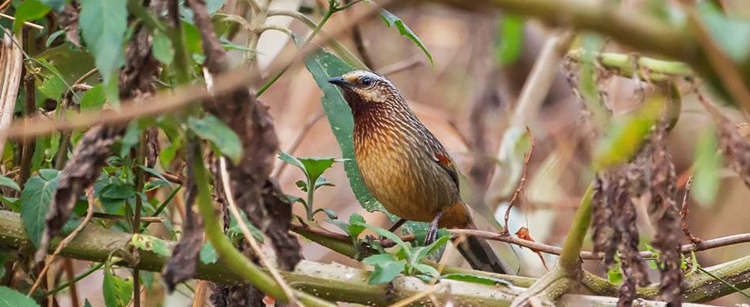 Nagaland Birding Tours
Nagaland is situated in the extreme northeast in India. It borders the state of Assam to the west, Arunachal Pradesh and part of Assam to the north, Burma to the east and Manipur to the south. It has an area of 16,579 square kilometres (6,401 sq mi).
One-sixth of area is covered by tropical and sub-tropical evergreen forests—including palms, bamboo, rattan as well as timber and mahogany forests, many scrub forests, high grass, reeds; secondary dogs, pangolins, porcupines, elephants, leopards, bears, many species of monkeys, sambar, harts, oxen, and buffaloes thrive across the state's forests. The great Indian hornbill is one of the most famous birds found in the state. Blyth's tragopan, a vulnerable species of pheasant, is the state bird of Nagaland. It is sighted in Mount Japfü and Dzükou Valley of Kohima district, Satoi range in Zunheboto district and Pfütsero in Phek district. Of the mere 2500 tragopans sighted in the world, Dzükou valley is the natural habitat of more than 1,000.
The forest type is consist of Tropical wet evergreen, tropical moist deciduous, montane, wet temperature and sub-tropical pine forests. 52% of its area is under forest cover. Over then 500 species of bird are recorder in Nagaland. The state has recorded bird species of; Grey-headed Fish Eagle, Yellow-rumped Honeyguide, Brown Hornbill, White-bellied Heron, Blyth's Tragopan, Manipur Bush Quail, Wood Snipe, Dark-rumped Swift, Mountain Bamboo-Partridge, Eurasian Woodcock, Blue-naped Pitta, 11 Warbler's, Bulbuls, Yuhina's, Babbler's, Naga Wren-babbler, Pygmy Wren-babbler, Streak-breasted & Spot-breasted Scimitar Babbler, 5 species of Laughing thrushes, Red0-faced Liochichla, Barwing, Fulvetta's, Grey Sibia, Minla's, Sunbird's, Thrushes and many more to look for. The birding areas are, sacred forest of Khonoma village, Benreu or Mt. Paona in Paren district, Dzukou-Japfu, Pfutseroo and Peren district.