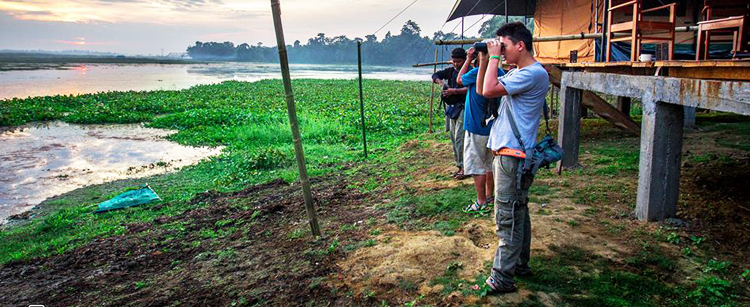 Dibru-Saikhowa National Park (Jeypore)
Dibru-Saikhowa National Park is among top wish list for birders around the world. The park is enlisted by UNESCO as World Heritage site. The park is surrounded by the mighty Brahmaputra and Lohit River with an area of 340 sq. kms is located in Tinsukia district in Upper Assam. Which is 13 kms from Tinsukia town. The forest area of the park is semi-evergreen and tropical moist deciduous and grassland. The can be access only on country made boat or motor boats. Dibru-Saikhowa has large swamp area which is a great habitat for rear species like Swamp Prinia. In 1819 Dibru-Saikhowa was declared as Reserve forest and later in 1999 the status was changed to National Park.
It's a birder's paradise with more than 300 species. Some of the super speciality of Dibru-Saikhowa are Black-breasted Parrotbill, Jerdon's Babbler, Marsh Babbler, Florican.
The park is also home for Tiger, Slow Loris, Sloth Bear, Assamese Macaque, Pig-tailed Macaque, Capped Langur, Hog Deer, Barking Deer, Flying Squirrels' and another special species that is Gangetic river Dolphin.
Dihing-Patkai Wildlife Sanctuary has become one of the important birding site in recent years among the birders of India. With number of good species and still counting. The sanctuary can be easily combined with Dibru-Saikhowa National Park. The sanctuary is in between Dibrugarh & Tinsukia on National highway no. 37. The notable part of the sanctuary is that is easily accessible. Is the only rain forest of Assam, with that you can imagine the potential of the sanctuary. It is a virgin forest with around 300 species bird and 42 species mammals within an area of 112 sq. kms.only.
The prime species of Dihing-Patkai are...
Have to work on it??? Hoolock Gibbon, slow loris, Pig-tailed Macaque,Stump-tailed Macaque, Capped Langur, Asian Elephant, Tiger, Black Panther, Leopard, Gaur, Chinese Pangolin, Himalayan Black Bear, Himalayan Squirrel, Leopard Cat,Clouded Leopard, Porcupine, Crab Eating Mongoose, Sambar, Sun bear, Binturong, Barking deer, Golden cat, marbled cat etc.
Avifauna
Dehing Patkai Rain forest in Upper Assam is known to harbour about 293 bird species, belonging to 174 genera and 51 families. The majority are residents (63.7%), some are winter visitors (23.1% ), and very few are summer visitors (2.5%). About 10.7% are altitudinal migrants, coming mainly from the higher reaches of the western, central and eastern Himalayas. There are 13 globally threatened species here viz. the Slender-billed Vulture, White-winged Duck, Greater Adjutant, Greater Spotted Eagle, Lesser Adjutant, Beautiful Nuthatch, Marsh Babbler, Tawny-breasted Wren Babbler, White-cheeked Hill Partridge, Great Hornbill, Brown Hornbill, Oriental Darter and Painted Stork
At least 10 of the bird species are listed in Schedule-I of Wildlife Protection Act 1972 (1994) including the White-winged Duck, Kalij Pheasant Grey Peacock Pheasant, Besra, Black Baza, Slender-billed Vulture, Osprey Great, Hornbill Wreathed Hornbill and Common Hill Myna.
Dehing Patkai Rain forest is home to five endemic bird species, which is 26% of the endemics reported from the north eastern region and all belong to the family Sylviidae. These are the Yellow-vented Warbler, Broad-billed Warbler, Marsh Babbler, Tawny-breasted Wren Babbler and White-naped Yuhina.
The birds of Dehing Patkai Rain forest thrive in the diversity of microhabitats in the predominantly evergreen forest such as dense evergreen forest, rivers & streams, evergreen forest edge, swamps, semi-open evergreen forest that includes the logged areas where openings are present, agriculture (cultivations, fallows and tea gardens) along the edge and habitations on evergreen forest edge. Most species are habitat specialists i.e. they are found only in a single microhabitat, with dense evergreen forest harbouring the maximum of 111 of the total 281 birds species recorded in Jeypore, of which insectivores are the most dominant guild with 79 species. 44 species were recorded along rivers or streams, 37 species in evergreen forest edge and 23 species in semi-open evergreen forest.
The insectivorous, carnivorous and most of the omnivorous birds help control the insect and rodent pests in the forest as well as in the agricultural ecosystem adjoining the forest. Frugivores like the hornbills, barbets, pigeons and koel, along with some of the omnivores like crows, mynas and starlings that feed on fruits serve as seed dispersers. Nectarivores and some of the insectivores and omnivores that feed on nectar help in plant pollination. There are terrestrial piscivores like the Kingfishers, Brown Fish Owl and Osprey and 31 aquatic species that depend on the rivers and streams inside the forest and the agricultural fields along the forest edge.