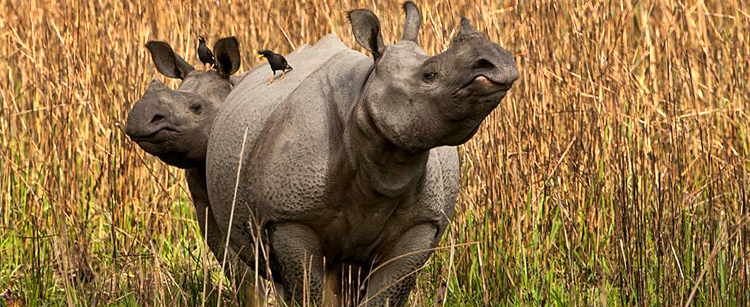 Welcome To Kaziranga National Park
Kaziranga National Park in situated Golaghat and Nagaon districts of the state of Assam. A UNESCO recognized World Heritage Site, the park hosts two-thirds of the world's great one-horned rhinoceroses. According to the latest census held in March, 2015, the current Rhino population in Kaziranga National Park is 2401 as published by the Forest Department under Govt. of Assam. Kaziranga boasts the highest density of tigers among protected areas in the world and was declared a Tiger Reserve in 2006. The park is home to large breeding populations of elephants, wild water buffalo, and swamp deer. Compared to other protected areas in India, Kaziranga has achieved notable success in wildlife conservation. Located on the edge of the Eastern Himalaya biodiversity hotspot, the park combines high species diversity and visibility.
Kaziranga is recognized as an Important Bird Area by Birdlife International for conservation of avifaunal species. It is home to a variety of migratory birds, water birds, predators, scavengers, and game birds. Birds that are found in the park are Riverine birds include the Nordmann's greenshank, Dalmatian pelican, white-bellied heron, Blyth's kingfisher, Spot-billed pelican, and black-bellied tern. Water birds that includes are Baer's pochard duck, black-necked stork, lesser white-fronted goose, ferruginous duck, and lesser adjutant, greater adjutant, and Asian openbill stork migrate from Central Asia to the park during winter. Birds of prey include the rare eastern imperial, greater spotted, white-tailed, Pallas's fish eagle, grey-headed fish eagle, and the lesser kestrel.
Other families of birds inhabiting Kaziranga include Old World babblers such as Jerdon's and marsh babblers, weaver birds such as the common baya weaver, threatened Finn's weavers, the great Indian hornbill and wreathed hornbill, thrushes such as Hodgson's bushchat and Old World warblers such as the bristled grassbird. Other threatened species include the black-breasted parrotbill and the rufous-vented prinia.