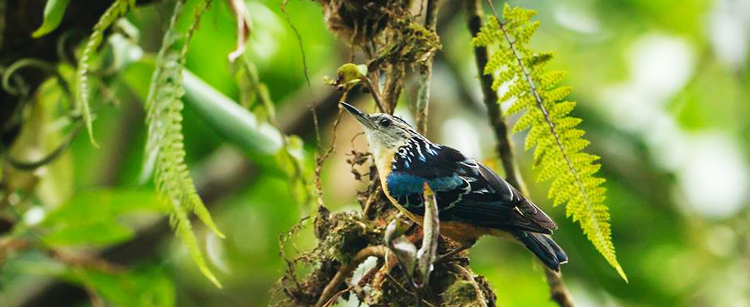 Birding in Tale Sanctuary Arunachal
Tale Wildlife sanctuary is located near the beautiful Apatani cultural landscape in Lower Subansiri District of Arunachal Pradesh. The sanctuary has an area of 337 Sq.Km lies roughly in between the Subansiri, Sipu and Pange rivers surrounded by densely forested mountains ranging for 2,000 to 4,000 mtr. altitude.
Tale is a plateau with dense forest of silver fir trees, pine clad plateau of beautiful grandeur, and a vast wasteland. The area has some of the most important endangered species including the clouded leopard, Red Panda.
Tale camp is 30 km from Ziro, the headquarters of Lower Subansiri district. The gateway to the sanctuary is the Pange Camp which is 7 km from Manpolyang.
There are two main valley; the Pange Valley and Tale Valley. Forest type of this sanctuary is East Himalaya Sub-tropical Forest, East Himalaya Wet temperate forest, Lauraceae forest, Oak forest, High-level Oak forest and East Himalaya mixed coniferous forest. The valley is also known for its thick and dense growth of bamboo forest. It has five species of bamboo of which, one is endemic to this valley.
Undisturbed pristine climax vegetation, the home of the rare, elusive and graceful clouded leopard. All the four-cat families are present. The breath-taking scenario of the pristine and primeval mountain wilderness is really unique of this Protected Area.
Some of the river and streams Pange, Pam, Pamluk, Sipy, Tale, Major drainage, Subansiri river ultimately meets to the Brahmaputra river.
About 364 species of birds have been recorded from the area. Of which the prime targets are Beautiful Nuthatch, Purple Cochoa, Yellow-rumped Honeyguide, Rusty-bellied Shortwing, Red-breasted Hill Partridge, Rufous-throated Wren-Babbler, Rusty-flanked Treecreeper, Fulvous Parrotbill, Black-throated Parrotbill, Long-billed Wren-Babbler, laughing thrushes, thrushes etc. Besides mammal viz; Sun Bear, Clouded Leopard, Asiatic Black Bear, Leopard, Tiger, Red Panda, Chinese Pangolin and reptiles etc.
Tale is least visited and explored is a natural laboratory for Ornithologist, Naturalist, Researchers. Beside the valley the area around Ziro valley has recorded many bird species most of our findings are in & around the Ziro valley. As Apatani tribe itself is famous and natural conservator. Interestingly the valley has recorded Black-necked Crane in the past. Tale & Ziro comes between the Himalayan ranges and Brahmaputra plains with the climatic conditions is the ideal place for birds to come and also is summer destination for the people from around. The valley is like an Island and it is believe that there is species yet to be found and new to science.