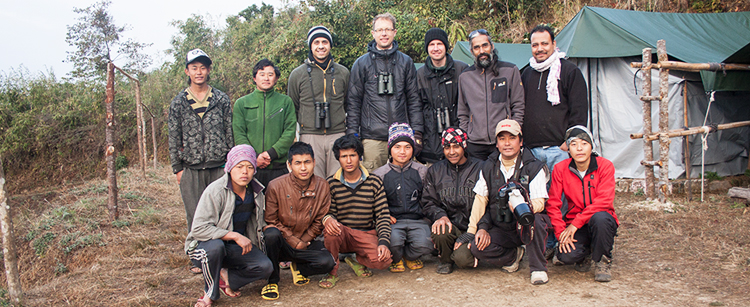 About Us
Come and explore the hidden land or the last Sangrila of India the North-East India. The last heaven for nature lovers with us. Since its inception we have been organising many exclusive birding tours to some of the most fascinating part of India.
We operate an informal and friendly organisation. Those who have travelled with us, do so regularly and repeatedly travel with us and we find them all the new places to explore the unexplored paradise of the reason.
We offer private trips where we use our expertise to plan a trip that suits you – even if it does not involve trekking! We are based in Canberra Australia with an office in the Himalaya.
Demonstrating Our Ecotourism Commitment
We are very much committed to responsible tourism or ecotourism, and strive to thoroughly understand each place we go in order to minimize our impact on it. To do this we have the trained exceptional local guides, who accompany our guests every step of the way. We share with them an appreciation for the natural and cultural history of their homelands. We impress our mission upon our service providers too, so that they can participate in conservation initiatives all along our journey towards success.
Learn More About our Conservation Projects & How You Can Help it more to make it better and successful
Every time travel with Arunachal Birding Tours, you travel with pioneers in ecotourism. We show you some of most remarkable places of region. We does so in a way that's as enriching as we can make it. Our escorted tours, planned and continuously refined over many years of experience in the area and the field we are working in, include many elements that would be next to impossible to do otherwise. On our every trips, we take you further into forest, so that you have the chance for some exceptional sightings.
A History of Arunachal Birding Tours
Coming from different part with years of experience with same love for the region with a bigger vision helped come together to form Arunachal Birding Tours (ABT). ABT works to bring communities, conservation and sustainable travel together to promote eco-tourism to natural areas, while conserving the environment and improving the well-being of local people.
Great Guides
Arunachal Birding Tours "leader in nature travel" for one reason above all others — the superb, English-speaking naturalists native to the area who guide you through one of the Bio-diversity hotspots on Earth's great birding and wildlife areas. These are not typical "tour leaders." Rather, our guides are consummate local experts with the uncanny ability to tell you about all the birds, plants, history and culture you'll encounter, and who care that you enjoy yourself and get the most out of your experience. You can be sure that because of them, your journey with ABT will be interesting, enriching, fun and exciting and above all with a great experience and memory to cherish with.
FITs and Independent Birders
Arunachal Birding Tours specializes in small group natural history tours, research and expeditions to newer areas. Our strong and trusted contacts around region and thorough knowledge of eachplaces enable us to serve "independent" guests like no other travel bugs. That's why we have so many people turn to us to customize their ideal journeys to World's great bio-diversity hotspots.
Fulfilling Our Commitment All around
Arunachal Birding Tours is very proud to be a pioneer in nature travel in the region. Throughout our history, we have supported conservation activities in the area. We support the locals for a sustainable Eco-based Tourism keeping in mind the fragile nature of the Flora & Fauna.
Travel in Style
With Arunachal Birding Tours, you can travel independent, FITs and in small groups (seldom over 16 guests), with expert nature local travel guides, on finely made itineraries. And you'll stay in the best accommodations available in the area. You will be well taken care off during your entire stay.