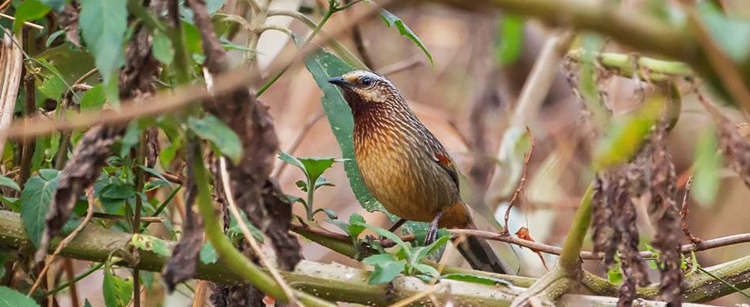 North Eastern India Trip Report
Month : December 2014.
By : Renate Radloff-Grass & Ralf Herene
Country : Germany
1st: I enjoyed refer you for a trip to Birding areas of Northeastern India!!
2nd: Our trip in December/January 2014/15 to Arunachal Pradesh and Kaziranga NP (Assam) was fantastic. Although sometimes very cold during the nights in the higher mountain-areas we felt very good! Days where sunny and we could make many sightings of beautiful birds and lots of other animals (including one Tiger at Kaziranga). The organisation of Gaurav Kataria was perfect. We always get any informations we needed, the recommended Tour-Plan was excellent and every Email was responded immediately!
Our Tour-Guide - Lobsang Tsering was very friendly and very competent. He has a good knowledge of the birds - especially the voices. And very special knowledge about the really difficult warblers!! So we got nearly every bird we wished to see! Only some birds, difficult to see in wintertime we didn't get.
Also we had a very good driver!
We started at Guwahati and then went to Nameri Eco Camp. The next destination was Lama Camp and Bomphu Camp (Eaglenest). What a fantastic area! It's a fortune, that's no mory military is there and nature can develop. And it's a fantastic place to visit!!
Then we went to Dirang. From there we visited Shangti Valley and Sela Pass before we went to Mandala. There we stayed for 3 nights!
After that we visited Kaziranga NP with its Rhinos and many other animals.
In total I could get 351 Species of birds - 131 of them where new for me!
Three weeks in total we've been in India and I'm shure I'll visit again that beautiful country.
That's we could see/hear:
Sun 21.12.2014 / Guwahati Dumping Ground + Nameri Eco Lodge
Greater Adjutant
Lesser Adjutant*
Asian Openbill
Cattle Egret
Little Egret
Black Drongo
White-Throated Kingfisher
Common Myna
Asian Pied Starling
Indian Roller
House Crow
Large-Billed Crow
House Swift*
Oriental Turtle-Dove
Spotted Dove
House Sparrow
Indian Pond Heron
Great Myna*
Mon 22.12.2014 / Nameri Morning
Goosander
Great Cormorant
Peregrine Falcon
Grey-Headed Fish Eagle
Green Imperial Pigeon
Crested Kingfisher
Pied Kingfisher
Green Bee-Eater
Lineated Barbet
Greater Flameback
Large Woodshrike* (Flug-Foto)
Long-Tailed Minivet
Scarlett Minivet (Fotos)
Grey-Backed Shrike
Lesser Racket-Tailed Drongo
Black-Hooded Oriole
Barn Swallow
Sand Lark*
Black-Crested Bulbul
Red-Whiskered Bulbul
Red-Vented Bulbul
White-Throated Bulbul*
Striated Grasbird*
Tickel's Leaf Warbler*
Greenish Warbler
Western Crowned Warbler*
Yellow-Vented Warbler*
Pin-Striped Tit Babbler
Oriental White-Eye
Velvet-Fronted Nuthatch
Common Hill Myna
Chestnut-Tailed Starling
White-Tailed Robin
Common Stonechat
Little Pied Flycatcher
Grey-Headed Canary-Flycatcher
Asian Fairy Bluebird
Crimson Sunbird
White Wagtail
Richard's Pipit*
Nameri Afternoon
Ruddy Shelduck
Mallard
Common Teal
Osprey
Little Ringed Plover
Green Sandpiper
Pin-Tailed Green Pigeon
Asian Barred Owlet*
Savannah Nightjar
Common Kingfisher
Blue-Throated Barbet
Fulvous-Breasted Woodpecker
Grey-Headed Woodpecker
Black-Winged Cuckooshrike*
Greater Racket-Tailed Drongo
Ashy Drongo
Black-Naped Monarch
Verditer Flycatcher
Pale Blue Flycatcher
Tue 23.12.2014 / Drive to Lama Camp
Spangled Drongo (Camp)
Oriental Turtle Dove
Great Hornbill (Fahrt kurz vor Grenze)
Grey Wagtail
Road to the Border of Arunachal Pradesh
Morning
Pied Falconet*
Black Bulbul
Yellow-Bellied Warbler*
Grey-Cheeked Warbler*
Pygmy Wren Babbler*
Gray-Throated Babbler
Yellow-Throated Fulvetta*
Nepal Fulvetta*
Long-Tailed Sibia*
Striated Yuhina
White-Naped Yuhina*
Black-Chinned Yuhina*
Chestnut-Bellied Nuthatch
Plumbeous Water Redstart
Black-Backed Forktail*
Small Niltava*
Golden-Fronted Leafbird
Fire-Breasted Flowerpecker
Black-Throated Sunbird*
Afternoon
Yellow-Breasted Greenfinch
Speckled Wood Pigeon*
Golden-Throated Barbet*
Striated Bulbul*
Buff-Barred Warbler*
Blyth's Leaf Warbler
Black-Faced Warbler*
Rusty-Fronted Barwing*
Beautiful Sibia*
Blue-Fronted Redstart
Orange-Bellied Leafbird
Wed 24.12.2014 / Lama Camp
Hinalayan Vulture
Crested Goshawk
Crested Hawk-Eagle
Great Barbet
Crimson-Breasted Woodpecker*
White-Throated Fantail
Yellow-Browed Tit*
Black-Throated Tit*
Chestnut-Headed Tesia*
Grey-Hooded Warbler
Scaly-Breasted Wren Babbler*
Rufous-Capped Babbler*
Streak-Breasted Scimitar Babbler*
Striated Laughingthrush*
Grey-Sided Laughingthrush*v
Streak-Throated Barwing*
Bar-Throated Siva
Red-Tailed Minla*
Black-Eared Shrike-Babbler*
Whiskered Yuhina*
White-Tailed Nuthatch*
Rufous-Gorgeted Flycatcher*
Green-Tailed Sunbird*
Rufous-Breasted Accentor*
Maroon-Backed Accentor*
Olive-Backed Pipit
Golden-Naped Finch*
Thu 25.12.2014 / Going to Bomphu Camp
Hill Partridge*
Large Hawk Cuckoo*
Ward's Trogon*
Spotted Nutcracker
Yellow-Cheeked Tit
Rufous-Fronted Tit*
Bar-Winged Wren Babbler*
Grey-Sided Laughingthrush
Bhutan Laughingthrush*
Chestn.-Crowned Laughingthrush
Hoary-Throated Barwing*
Stripe-Throated Yuhina*
Rufous-Vented Yuhina*
Black-Throated Parrotbill*
Fire-Tailed Myzornis*
Yellow-Bellied Flowerpecker*
Crimson-Browed Finch*
Grey-Headed Bullfinch*
Striated Laughingthrush
Fri 26.12.2014 / Eaglenest 1 - from Camp (1700 m) to 1200 m
Rufous-Throated Partridge*
Chestnut-Breasted Partridge*
Black Eagle
Rufous-Bellied Eagle*
Mountain Imperial Pigeon
Barred Cuckoo Dove
Wedge-Tailed Green Pigeon
Red-Headed Trogon*
Rufous-Necked Hornbill*
Bay Woodpecker*
Bronzed Drongo
Grey Treepie
Nepal House Martin*
Mountain Bulbul*
Chestnut-Headed Tesia
Slaty-Bellied Tesia*
Red-Faced Liocichla*
Himalayan Cutia*
Blue-Winged Siva
White-Browed Shrike-Babbler
Rufous-Winged Fulvetta
Greater Rufous-Headed Parrotbill*
Brown-Throated Treecreeper
Chestnut-Bellied Rock Thrush*
Sat 27.12.2014 / Eaglenest 2 from 1200 m to 800 m
Kalij Pheasant
(Pied Falconet)
Jerdon's Baza
(Rufus-Bellied Eagle)
Emerald Dove
Collared Owlet
Blue-Bearded Bee-Eater
Bay Woodpecker
Grey-Chinned Minivet*
Yellow-Bellied Fantail
Sultan Tit*
Plain Martin
White-Spectacled Warbler*
Eyebrowed Wren Babbler*
Golden Babbler
Rufous-Backed Sibia*
Lesser Rufous-Headed Parrotbill*
Beautiful Nuthatch*
Slaty-Backed Forktail
Spotted Forktail
Sun 28.12.2014 / Eaglenest 3 - 1200 m - 1700 m
(Black Eagle - Foto)
Greater Yellownape
Maroon Oriole
White-Crested Laughingthrush
Scarlet Finch*
Eaglenest 3 - 2000 m - 1700 m
Hill Partridge
Rufous-Bellied Woodpecker*
Darjeeling Woodpecker*
Golden-Breasted Fulvetta*
Blue Whistling Thrush
Rufous-Bellied Niltava
Mon 29.12.2014 (9a - Eaglenest Pass / 9b - Lama Camp / 9c - Shangti Valley)
Himalayan Buzzard* 9c
Black-Necked Crane* 9c
Ibisbill 9c
Red-Wattled Lapwing 9c
Long-Billed Plover 9c
Long-Tailed Shrike 9c
Spotted Laughingthrush* 9a
Blue-Winged Laughingthrush* 9b
Scaly Laughingthrush* 9b
Brown Dipper 9c
Wallcreeper 9c
Hodgson's Redstart* 9c
Dark-Breasted Rosefinch* 9a
Tue 30.12.2014 (10a - Sela Pass / 10b - Mandala)
Snow Partridge* 10a
Snow Pigeon* 10a
Red-Billed Chough 10a
Coal Tit* 10a
Russet Bush Warbler* 10b
Black-Faced Laughingthrush* 10b
Green Shrike-Babbler* 10a
Brown Parrotbill* 10b
Goldcrest 10a
White-Throated Redstart* 10a
Alpine Accentor 10a
White-Browed Rosefinch* 10a
Little Bunting 10a
Wed 31.12.2014 / Mandala
Yellow-Billed Blue Magpie*
Green-Backed Tit
Grey-Crested Tit*
Brown-Throated Fulvetta* Ralf Foto
Winter Wren
Rusty-Flanked Treecreeper*
White-Collared Blackbird*
Eyebrowed Thrush*
Red-Throated Thrush*
Black-Throated Thrush
White-Browed Bush Robin*
Russet Sparrow*
Thu 01.01.2015 (12a - Road to Kaziranga / 12b - Kaziranga)
Bar Headed Goose 12b
Mountain Tailorbird 12a
Grey-Headed Warbler
White-Capped Redstart
Fri 02.01.2015 (13a - Central Range / 13b - Western Range)
Red Junglefowl 13a
Greyleg Goose 13a
Indian Spot-Billed Duck 13a
Northern Pintail 13a
Common Pochard 13a
Woolly-Necked Stork 13a
Black-Necked Stork 13a
Black-Headed Ibis 13a
Grey Heron 13a
Purple Heron 13a
Great Egret 13a
Pallas's Fish Eagle 13a
Lesser Fish Eagle 13a
Crested Serpent Eagle 13a
White-Breasted Waterhen 13a
River Lapwing 13b
Grey-Headed Lapwing* 13a
Spotted Redshank 13a
Common Sandpiper 13a
Yellow-Footed Green Pigeon 13b
Vernal Hanging Parrot 13b
Alexandrine Parakeet 13a
Rose-Ringed Parakeet 13a
Red Breasted Parakeet 13b
Greater Coucal 13a
Common Hoopoe 13a
Coppersmith Barbet 13b
Grey-Capped Pygmy Woodp. 13a
Common Iora 13a
Orange Minivet* 13a
Rufous Treepie 13a
Eastern Jungle Crow* 13a
Rufous-Fronted Babbler 13a
Striated Babbler* 13a
Jungle Myna 13a
Oriental Magpie Robin 13a
White-Rumped Shama 13a
White-Tailed Stonechat 13a
Baya Weaver 13a
Citrine Wagtail 13a
Sat 03.01.2014 (14a - Eastern Zone / 14b - Central Zone / 14c - Lodge)
Gadwall 14a
Eurasian Wigeon 14a
Red-Crested Pochard 14a
Intermediate Egret 14a
Great White Pelican 14a
Common Kestrel 14a
Common Moorhen 14a
Bronze-Winged Jacana 14a
Northern Lapwing 14a
Pin-Tailed Snipe* 14b
Common Redshank 14b
Common Greenshank 14a
Spotted Owlet 14a
Oriental Pied Hornbill 14a
Streak-Throated Woodpecker 14 a
Great Tit 14a
Blunt-Winged* Warbler 14c
Taiga Flycatcher* 14c
Scarlet-Backed Flowerpecker 14a
Little Spiderhunter 14c
White-Rumped Munia 14c
Yellow Wagtail 14b
Rosy Pipit 14b
Sun 04.01.2015 (15a - Kaziranga - Western Zone / 15b - Tea-Garden)
River Tern 15a
Rufous-Faced Warbler* 15a
Ruby-Cheeked Sunbird 15a
(Crimson Sunbird: F)
Blue-Naped Pitta* 15b
Large Cuckooshrike 15b
White-Browed Scimitar Babbler 15b
Jungle Babbler 15b
Lesser Necklaced Laughingthr. 15b
Pygmy Blue Flycatcher* 15a
Mon 05.01.2015 (16a - Jorhat - Swamp / 16b - Gibbon Sanctuary / 16c - Kaziranga - Eastern Zone)
Swamp Francolin* 16c
Fulvous Whistling-Duck* 16a
Northern Shoveler 16c
Purple Swamphen 16a
Eurasian Coot 16a
Stork-Billed Kingfisher 16c
Small Minivet
Brown Shrike 16a
Ashy Bulbul 16b
Buff-Breasted Babbler* 16b
Abbott's Babbler 16b
Blue-Winged Leafbird
Tue 06.01.2015 (17a - Tea - Garden / 17b - Central Zone / 17c - Tea - Garden)
Marsh Sandpiper 17b
Wood Sandpiper 17b
Green-Billed Malloa 17b
Grey Bushchat 17a
Wed 07.01.2015 (18a - Lodge / 18b - Deepor Beel)
Puff-Throated Babbler 18a
Rufous-Necked Laughingthrush* 18a
Lesser Yellownape 18a
Common Tailorbird 18a
Black-Winged Kite 18b
Bank Swallow 18b
Lesser Whistling-Duck 18b
When I was back at home and checked my pictures from Deepor Beel I noticed two flying ducks! And That where two Falcated Ducks! An absolutely Highlight for me!!!!!!!
Mammals and other animals we have seen:
Barking Deer
Rhesus Makaks
Black Hooded Langur
Giant Gecko
Malaian Giant Squirrel
Three Striped Squirrel
Five Striped Squirrel
Hoary Squirrel
Capped Langur (Eaglenest)
Kaziranga
Rhinos
Buffaloes
Elephants
Hogdear
Richard's Makaken
Otter
Tiger
Waran
Lodge
Yellow-Throated Marten
Gibbon Sanctuary
Holloge Gibbon